I have decided to pursue my passion of editing and proofreading. I am one of THOSE word people.
Friday, May 1, 2015
Let's get to know Marilyn

Marilyn Kaye Weimer
Watercolor Artist and Fiction Author
Marilyn completed a three year Famous Artist Course. She studied commercial art at the Kansas University and completed her Associate of Arts with a degree in design at Saddleback College in Mission Viejo, CA. in 1987 where she first began writing.
A member of the Romance Writers of America for five years, member of San Diego and Riverside, CA and Arizona RWA organizations and three critique groups helped her to learn and improve her writing skills. A continued writing effort of various courses and contests is ongoing.
Marilyn won an honorable mention award for a watercolor landscape in the Albrecht Kemper Museum of Art in the 2002 membership art show. Her watercolor landscape won first place in the 2010 Federated Garden Clubs of Missouri, Inc. People's Choice Award held in St. Louis, MO.
Marilyn teaches both watercolor and pastel mediums. A recent member of St Joseph Writer's Guild and Glass Eye Gallery in St Joseph, MO
Jerry Pruitt loves his tiny home town so much that he is trying to bring it back to life by renovating and reopening some of its businesses. But the disappearance of a young woman and her grandmother and the strange circumstances surrounding the event and his possible part in it begin to consume Jerry and threaten to undermine his dreams for the town, his marriage and even his sanity.

Pick up your copy of the book here.
Snippet Time!
"Something unusual is going on, but what? He stares harder. There. Again. His heart beats faster. His damp feet are colder. The humidity, perspiration and a slight breeze cause a chill. He sees the flash again.
This is not my imagination
, he tells himself.
Those lights are not from the construction site.
Oil riggers use continuous spots or motion detectors, not vacillating or movable lights. Goose bumps cover Jerry's arms. Chilled, he knows he should go into the house but he doesn't want to miss the next flash. Again the light splashes against the horizon. The colors change, first blue, to green, then yellow. The lights flash and disappear."
Follow along on the event page.
And all these great blogs
http://aone-clickaddictsbookblog.blogspot.com/
Title: Fated Capture Author Name: Kristyn Eudes Publication Date : January 22, 2015



Arsema believes she is just a regular sixteen year old girl until a week before the start of her junior year when she starts to experience strange occurrences. Soon after she is thrust into a world that feels more like make-believe than reality.
To make matters worse, she is being hunted by two ancient races of supernatural beings. One looking to find and save her life and in turn save their race, the other looking to use her to bring an end to the world as she knows it. After being attacked and kidnapped by her best friend's boyfriend she is rescued by the guy she has been having reoccurring dreams about. Soon her life is not the only thing she is in jeopardy of losing as she finds herself falling hard and fast for her rescuer, Lyon. But will she be able to see past who or what he really is and accept him as he is? Fated Capture is a story about fate, adventure, magic and unconditional love. Arsema is a fiercely loyal heroine with a knack for getting herself into trouble. The question is will she be able to get out? Or will she find herself in the grasp of the one she desperately needs to avoid?
An absolute must read. Loved this book. Cant wait to read the next one.
I really like the way the author jumps right with tons of action and is able to maintain the same level. I think this story is good for anyone of any age. Its young enough for YA and yet still done well enough to hold the attention of adults.
Arsema begins having the same dream every evening, and its of a dark mystery man. Her saviour, yet she can never see the end of the dream.
Lyon has been searching for 6 centuries. Has he finally found the one? He feels a pull like nothing before. And to find his soulkeeper too... he never would have guessed. And no one could prepare him for the Betrayal, love, fear, and absolute peace he will find on this journey.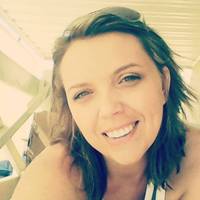 Kristyn Eudes was born in Phoenix, Arizona, but raised in a small town in Alabama were she still resides today. She recently married the love of her life and now spends her days raising their large family. She obsessed with Vampire Diaries and loves to spend her free time reading and writing.
Ok Kristyn has done it again! Absolutely magical story. How she is able to continue an entire story and keep so much action, I have no idea. I just absolutely could not put this down until the end.
My only complaint is that the book is over. This story again is full of something for everyone of every age. The story of Lyon and Arsema continues is this 2nd book. The story yet again is full of more emotion than a pregnant woman. Arsema and Lyon put The Bond at the absolute limits of its power and strength. Can they come back from the edge? Can Lyon find his way back? Will either of them survive the distance? Sorry cant tell you. You will have to read.
Fated Release Amazon
Title - Stepdaddy Dom
Author - T.S. Irons
Genre - Erotica
My life was almost perfect. I had a job I loved that made me a ton of money. I had the perfect wife who was sexy, smart, and loved to play games in the bedroom. And then there was Riley, my eighteen-year-old stepdaughter, the bane of my existence. She was a spoiled brat that needed to be taught a lesson, and I was going to bend her into submission.
Warning: This is a smutty taboo tale. If it's not your thing, don't one click!
(delete if no review )
T.S. Irons likes all things smutty! She loves lingerie, sexy movies and hot reads.
She lives in Pensylvania with her sexy husband and their crazy dog.